The word 'Bombay' evokes a multitude of emotions in the heart of every person who has lived in the city, who has experienced it and given his/her heart to the spirit of the metropolis. Bombay is an emotion greater than all the songs and stories that center around it. It gives calm to some, chaos to others. It gave me what any 18 year old looks for- it gave me meaning.
I was pretty clear by the time I was 16 that I wanted to go to university in Bombay. The thrill of moving out, doing your own things, taking responsibility for your own mess- all these experiences enticed me. Just like Aisha in Wake Up Sid, for me, being scared was never an option. I wanted to be in Bombay and when I was there, there was no space for fear.
Bombay taught me so many lessons, one of the most important one being that expectations are pointless. It's futile to hold high expectations from anything or anyone, especially from Bombay. the city accepts you if you accept it, unconditionally. If you expect only perfection, the city brings you down from your pedestal and sets you up on a never-ending date with reality. If you give your best and let go of your inhibitions, the city showers you with happiness, purpose and people you can call family.
Believe it or not, but for me Bombay has been a city of outsiders. It is a melting pot of so many cultures; most of the people you meet are either new to the city or have parents or grandparents who moved to the city. The thing about outsiders is that they're wired to be tough. Their hopes and aspirations make them stronger and more resilient. Their tolerance for rejection, diappointment and failure is extremely high because for them, their goals hold utmost importance. Bombay's magnetic force owes its existence to these powerhouse outsiders who made it big and whose success stories led to the city being called the 'City of Dreams'.
There is not one singular moment when I fell in love with the city, but so many incidents that made me proud of my decision of moving to Bombay.
In 2016, in my second year of college, I took a train from Grant Road to Vile Parle, which is where I stayed for 2 years. It was around 3 pm and so the train wasn't crowded. A lady got into the train at Dadar, which is probably the busiest station on the Western line. Normally anyone would've expected her to take a few moments to rest and take a seat in the train, since empty seats in a Bombay local are very rare. But instead, she put on her earphones and stood at the edge of the compartment to feel the cool monsoon breeze. She kept walking around the compartment, making calls, not even sitting for a minute. She seemed so happy, so content and the moment the breeze hit her face, all her exhaustion seemed to wear away. That moment I promised myself that I needed to document this memory whenever I write about Bombay because THIS is a very important characteristic of anyone who lives in Bombay. Here, rest isn't sleeping and relaxation isn't about lying on your back and not doing anything. Your few moments of rejuvenation could be the light breeze or a chance encounter with a stunning Bombay sunset and that gives you the strength and the courage to keep going.
Last year, my phone was snatched from my hand when I was in an auto at 11:30 in the night. This happened 3 days after I spent 3K on repairs. The next day I was distraught. I was in a cab, going home after college and I was speaking to my family via a spare phone; my mom was shouting at me for being irresponsible and unorganized and I was overwhelmed by the scare I had the previous night and the guilt of getting my phone stolen. I broke down and started sobbing. The cab was stuck on Peddar Road, one of the busiest roads in South Bombay. The taxi driver asked me what happened and I told him my phone got stolen. He listened, without any judgement. As I stepped out of the taxi, he told, "Beta phone naya aa jayega, chinta mat karna, rona mat". His voice had undertones of empathy and care and I wondered how did he even manage to care about a girl's phone being stolen when he probably had so many more things to worry about. Contrary to what a lot of people think, Bombay's struggles and problems make you feel more deeply for the struggles of everyone around you. It toughens you up, surely, but also sensitizes you to life and its mysterious ways. These paradoxical behaviour patterns, only Bombay can imbibe in you.
I think an ode to Bombay is painfully incomplete without the people in Bombay. I have made so many friends in Bombay, friends whose door I'd show up at without notice, friends whose families welcomed with open hearts, friends who were always up for Carter Road or Bandstand at midnight, friends who pulled all-nighters at Marine Drive, friends who woke up for breakfast, friends you could do anything and everything with. In Bombay, where there are so many outstation students, hanging out or chilling is not limited to sitting in a cafe or going clubbing. I had friends I'd go to Reliance Fresh with every week to stock up on groceries, I had one friend I would run to when anything happened to my laptop or phone, I had 2 friends who took the local with me everyday for 2 years, I had friends who I shared the cab with when I stayed near my college, 3 friends who would always meet me at Haji Ali at night, 2 friends who were my chaat buddies in Juhu and one friend who walked with me to the chaat guy in South Bombay and then to Noble Chemist for fancy groceries. I also had 2 friends I'd meet on alternate Sundays, first for a walk at Amarsons and then to Dev's Momos, one of the best momo joints in Breach Candy. Bombay teaches you that friendship, as opposed to what we see on social media, is beyond aesthetics and hashtags, Bombay helps you open up to people, cry, break down, be truly vulnerable in front of your friends because as hard as the city tries to be an 'individualistic' space, it is the crowd that eases you out. That kind of crowd, you never get anywhere else. That crowd is what you call family.
What I'm about to say now may sound cliched to anyone who has lived in a Tier 2 or Tier 3 city, but from experience, I can say that in smaller towns, you have lesser chances. You may screw up once and your reputation may tarnish, both personally and professionally. Don't get me wrong here, I hail from a Tier 2 city and I moved back to Baroda because I see a lot of scope here. I see the creativity, the talent and the potential, which several Tier 2 cities can boast of. But with a city like Bombay, you never run out of chances. My point here can be summed up by a dialogue from Hasee Toh Phasee
"Chance humesha second last hota hai, last nahi"- In Bombay, because of the sheer population, there will always be unlimited opportunities, more chances to goof up and eventually get it right. I have friends doing everything from advertising to medicine to rehabilitation training using Kathak techniques to hosting events to practicing behavioural psychological techniques- and Bombay welcomes all these interests and passions and lets them flourish.
A lot of people think that there's nothing more to Bombay beyond Victoria Terminus,Marine Drive or Gateway of India. They think Bombay cannot match Delhi or Calcutta in terms of historical or architectural value. Out of my love for the city, I decided to explore it as much as I could, I tried to uncover its beautiful secrets and that is when I realized that Bombay's gems are for those who care enough to find them amongst the concrete jungle. I walked through Vasai Fort during the monsoon, hiked to the Kanheri Caves in Sanjay Gandhi National Park, spoke to an old Jewish man about Jews in Bombay in a synagogue, explored small Catholic settlements like Ranwar and lost myself in the beauty of Chimbai village, walked through Khotachiwadi, admired the Bhau Daji Lad museum, remained awestruck in all of Bombay's stunning churches, climbed the Sion Fort, indulged in some quiet time at a Japanese Buddhist temple, climbed a hill in the middle of Andheri and did so many things that a travel portal or Instagram will not tell you about. In Bombay, you're always travelling, always exploring. Each day is an adventure and if you seize it with all your might, you are rewarded with everything you wished for.
Bombay, for me, is something I can write about, without stopping. But the city's charm lies in the fact that it doesn't divulge its secrets all at once. It waits for those who are determined enough, strong enough, who really want to go beyond what is commonly said about the city. As a parting note, I just want to say that the city is beautiful. It gives millions of opportunities to people. In return, all it asks for is your help and support. The city is in a crucial state with the Metro construction, the Coastal highway which will possibly uproot the lives of the Koli community who are the original inhabitants of the city; the rains, the work going on around Juhu-Tara road. Please be a little more compassionate towards the city if you can. Bombay has a soul like any other human and that too needs healing when it is wounded. Ditch your cabs and take a train/bus once, try not throwing garbage the next time you're in the National Park, don't throw cigarette butts or empty alcohol bottles in the sea; please be aware of the consequences of the Coastal Highway and do something about it if you can. As citizens, it is our duty to give something back to the city that has given us so much. Like Aisha in Wake Up Sid, learn to take a step back and enjoy the city whenever possible. Work to make your city, your neighbourhood better. You might just end up falling in love with it all over again.
Leaving you with some songs that I listen to when I miss Bombay
Mumbai Nagariya by Lucky Ali
Iktara Male version from Wake Up Sid
Shaam Tanha by Agnee(featured in Wake Up Sid)
Ae Dil Hai Mushkil Jeena Yahaan
Jaane Tu Ya Jaane Na Title Track and Kabhi Kabhi Aditi
Atrangi Yaari from Wazir
OK Jaanu Title Track
Also some of my favourite pictures/people from Bombay over the last 4 years and my favourite Bombay pop culture scenes!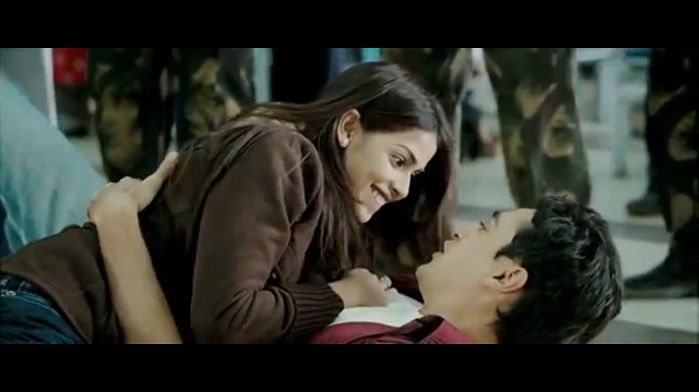 Bombay memories, in no particular order
Bombay breakfast no 1018372

bhelpuri outside Amarsons

humble house parties
all-nighter at Marine Drive
Last set has to be Bombay sunset pictures, one is just never enough!
Try opening your heart up to Bombay, it might just give you a glimpse of its rugged soul! Be Khanabadosh and give the city a chance to be yours. I promise you, it will be one lasting affair!